Location : What3Words Retail Tradisional Simpang Rangkaya, Nameless
---
Hi dear friends? Happy fasting day. Hopefully in this month of Ramadan we all get blessings and goodness in running a business while embracing a small economy to perfect our daily needs in Ramadan and so on.
Anyway, on this beautiful occasion I want to promote one of the residents' businesses which is equipped with home furnishings and necessities that are often used at home, even stalls as cups and various other types which are located at the Simpang Rangkaya, Tanah Luas. North Aceh (Indonesia). For the location, you can click above. Hopefully this way will become one of the new passions as a street vendor, a traditional market retailer.
Lots of traditional businesses in my mainland area are growing rapidly without having a name, Usually a business will be very well known by making a logo or name as a display of business identity to make it visible to the local community, it will also help remember other consumers to find it. However, it is different when the owner of this business makes a place for doing business with traditional household appliances without a name as the center of attention of many residents and even other mothers to choose to shop for necessities at traditional retail rather than modern markets because traditional markets are no less interesting than modern markets. in the traditional way it is easier and cheaper and other discounts when determining the price bargaining directly with the business owner.
Previously, businesses like this were very famous and hard to find, only working as PASAR MALAM that's a name that is often heard in my village because they formed an inner group to run their respective businesses as non-permanent places, street laborers. But the arrival of covid is changing the retail in a different way to help grow its economy on a daily basis. To be precise, this business is still hiding behind its former name even though they have been separated from their colleagues who live in a crowd of groups. Now famous for the difference with the way of settling.
For me, this kind of market is not foreign to hear in rural areas, because we know that they sell it at the right and cheap sales prices, and even we can choose mixed retail sale items with different colors and shapes that really suit our needs. our income, all ten thousand. Even without hesitation, we can choose in the column below the price/Pcs direction that is applied to make it easier when choosing items per glassware in exchange for the type and quality of the price of different goods, all ten thousand?. As in the picture I explained.
On Sale 2pics IDR 10000/1.960 Steem (Mixed items)
On Sale 3pics IDR 10000/1.960 Steem (Mixed items)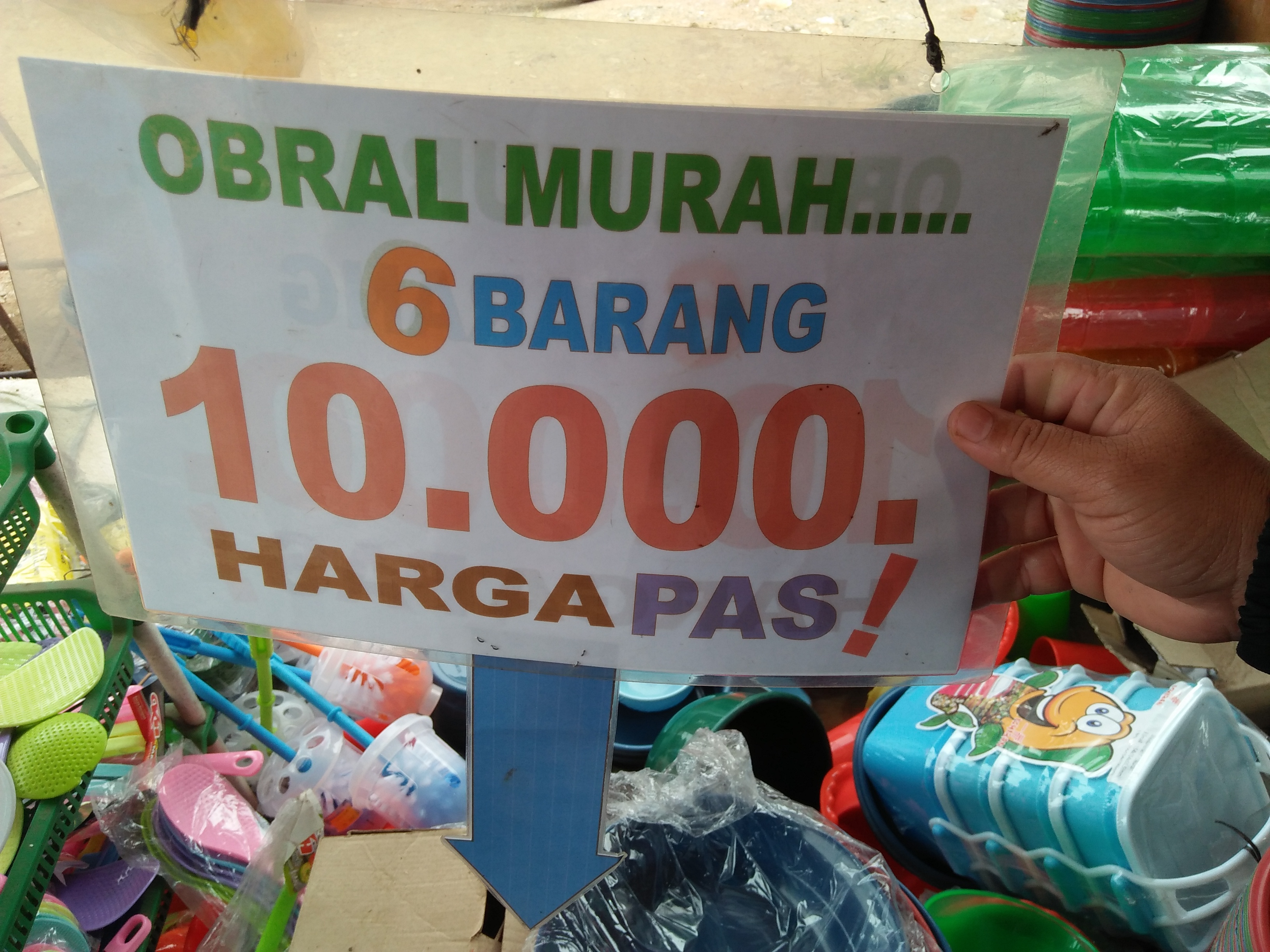 On Sale 6pics IDR 10000/1.960 Steem (Mixed items)
And looking for other needs is also found such as tools that are often used to clean the room of the house such as brooms, mops, baskets and many others that can be reached as very functional items at home.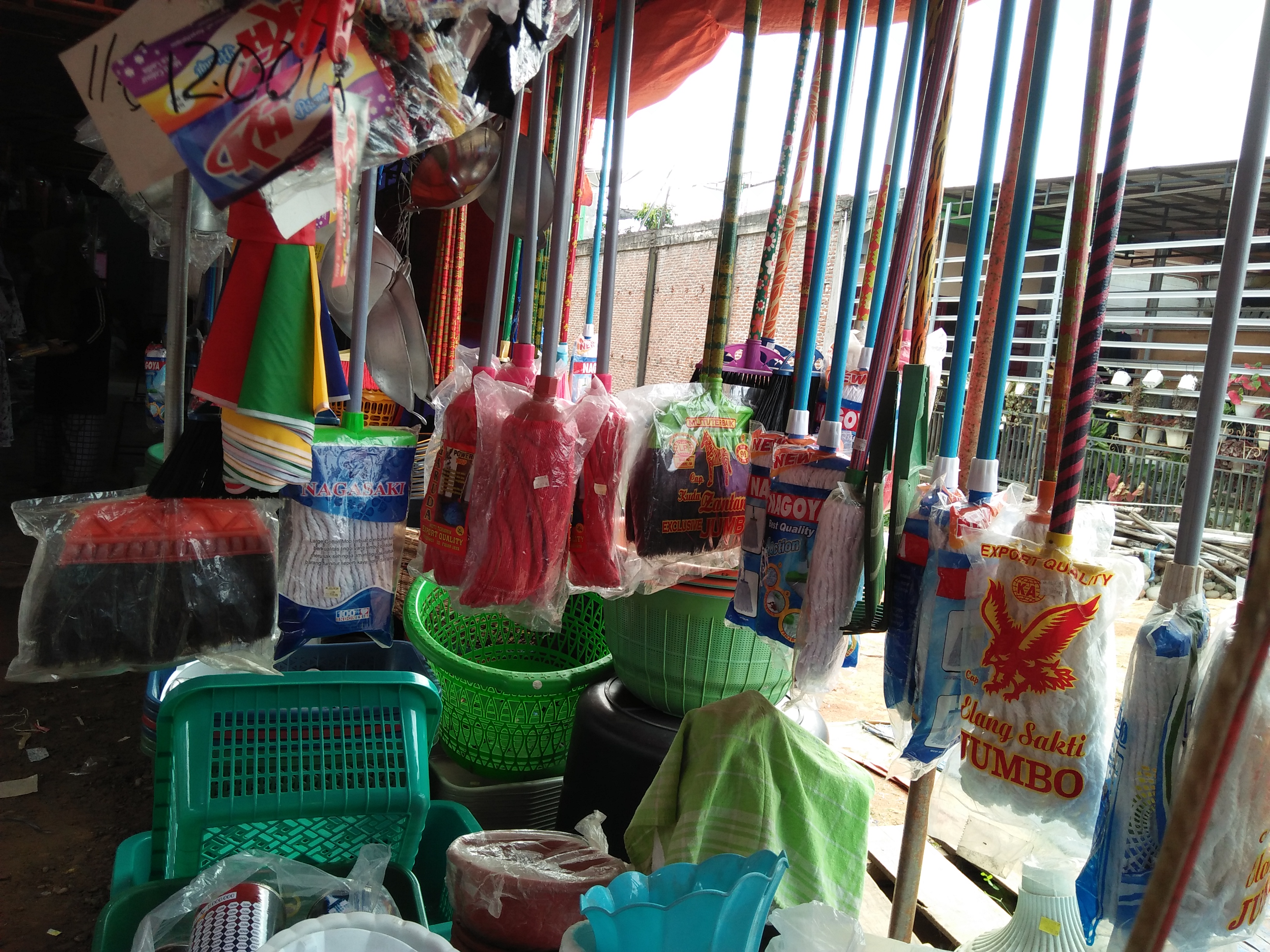 Supplies Cleaning tools and baskets
Not with that, business owners also keep a lot of stock, which we can find in various models of plates and pans that have many sizes in a modern and simple way with very high quality.
ceramic plate
valley pan
After a few minutes I have shown all the contents in the traditional retail market which are simple in form and also some other equipment they market for the condition that all prices can be seen on all items that are bolded in IDR published by the business owner to make it easier for us, without difficulty determining the number of goods and the price of goods to be purchased according to the contents of the wallet, of course.?
Now I will choose to shop, Of course it can be felt when women like shopping and because some of the things I need are also here.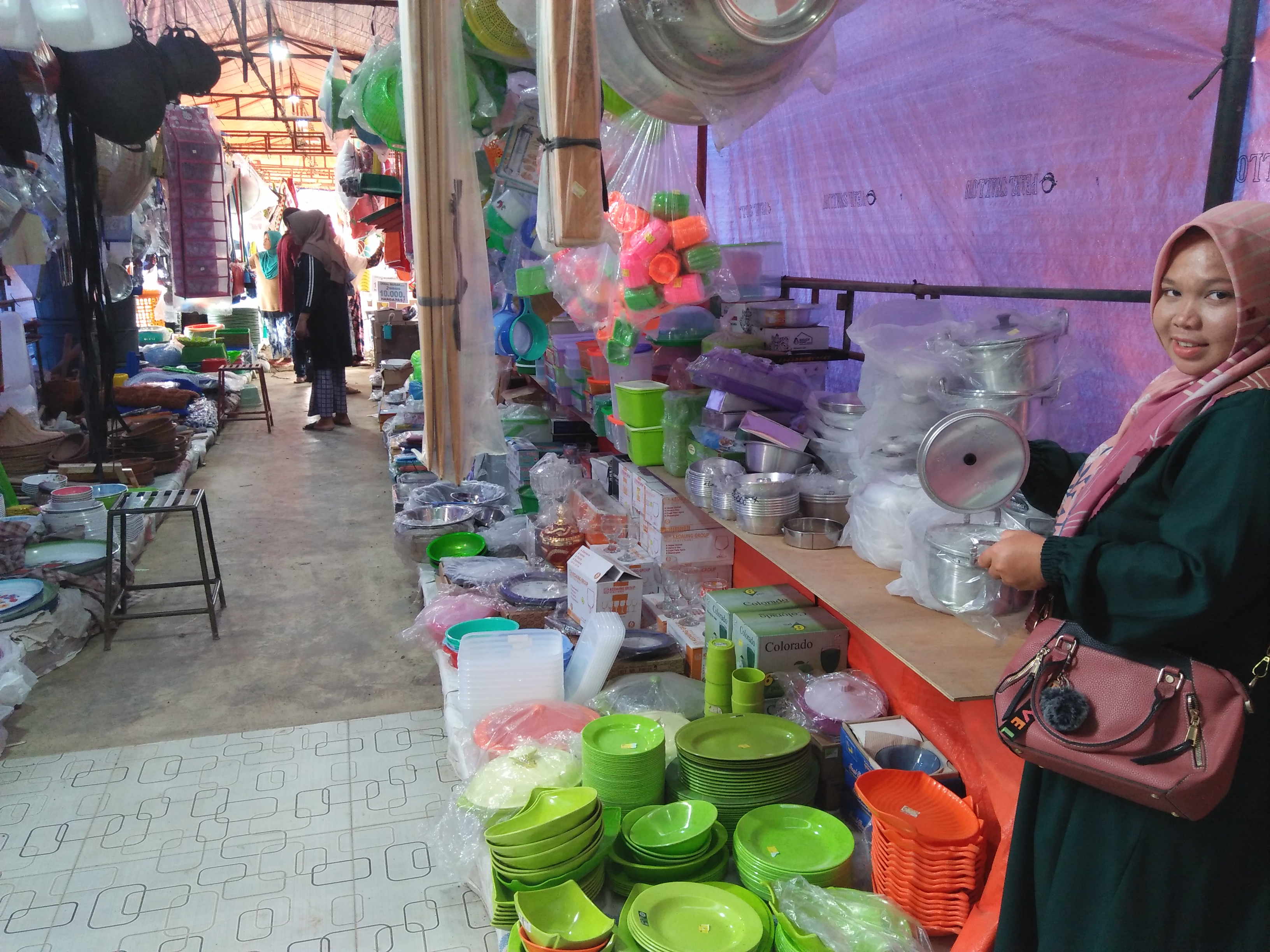 Stock selection of In-Store items
It's really necessary in the month of fasting I need to warm water and hot water, this pan really helps me when making tea hot and I can use other things besides tea and other stews. For the size of the pan, the price is different, but according to the choice as needed, for the medium size pan for 23000IDR, it can also be seen on the label for the number of unit prices so that I can easily choose items at a certain price to minimize funds.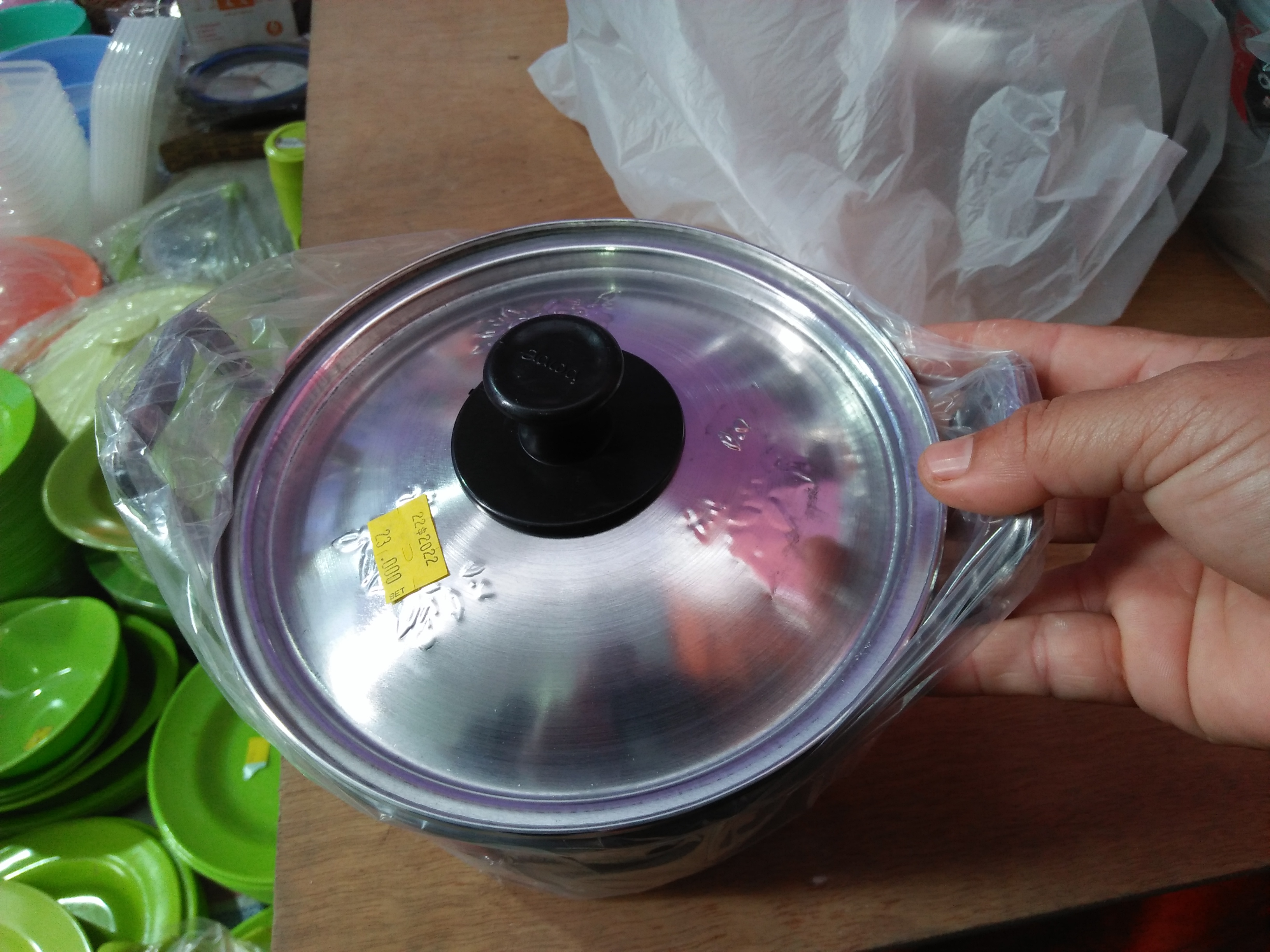 Frying Pan
After the pan, I felt satisfaction and brought it along while looking at other contested items.
This one is also very much needed as a drinking cup and a small plate to hold the glass, but they must be purchased separately. It also doesn't make me worry about choosing this one, because it is really needed at home. But in the same form we can mix different models and can also check the goods so as not to take damage or other things that look like cracks in the choice that must be replaced so that the service here guarantees every satisfaction from consumers.
While the glass per box consists of 5pcs which costs 15000/box. And a glass plate Dp-06 20000/box which consists of 12 pics arranged in one box.
I can find all my needs or my groceries here in the following quantities and total prices, Pans type 1pc IDR 23000, Glass 2 boxes IDR 30000 in one box IDR 15000, Glass plate DP-06 1 box IDR 20000, so all in total IDR 73000/14.300 Steem.
After feeling satisfied and satisfied with the service, it's time to interact with the owner of the business while taking the time to prepare funds by bargaining at the cashier. Yes, here, some women debate prices with fun seeing the owner's expression, right? My arrival with a purpose is fine.
But I got a slight price reduction from the normal rate of IDR 73000 to IDR 71000/13.90Steem after bargaining. Although this looks very small from the minimum basic tariff, I also get satisfaction with the products they sell so cheaply that are a little different from other places.
As per current drop I can cover IDR TO STEEM with the help of Coinmill.com
That's all from me, business promotion from traditional markets in my area that I can do for you through the SteemEntrepreneurs community who always supports and helps entrepreneurs selflessly for mutual success, hopefully it will be useful. If there are errors in my writing that interfere with the suitability of your language, I apologize profusely to the reader. Happy fasting worship.
THANK YOU ALL